Egyptian Supreme Council of Universities signs Memorandum of understanding with American partners.
George Mason University:
Dr. El-Gharib signed an agreement with the main goal to increase cooperation between George Mason University and Cairo University by building an international branch of the college of Commerce in Cairo University. It is also expected that this agreement will also help in the improvement of research and the exchange of expertise between the two universities
The American Association of State Colleges and Universities (AASCU)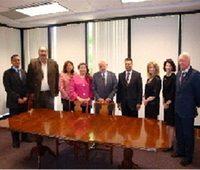 Dr. El-Gharib singed a Memorandum of Understanding between the Supreme Council of Universities and AASCU. This agreement will create cooperation programs between the Higher Education institutions in Egypt and the U.S. that will promote faculty development through joint research projects and faculty exchanges . Dr. Maha Kamel, the Director of the Egyptian Cultural and Educational Bureau has accompanied Dr. Elgharib during her visits.